June 21st, 09 Check out Jim's newest restore project.A john deere model 322.As always Jim does very nice work,scroll to the bottom to see the pics.
June 9th, 09 Check out our friend James Bright's latest Restoration a John Deere 120 Patio Model.Scroll to the bottom of the page to check it out. KW
James has just started out with garden tractors.He has restored a cub cadet 149 and also a john deere 316.He said he also restored a dixon zero turn cone drive but that was a nightmare.He just bought a 110 and also 140 now we're talking Jim!!.I myself have a lot more passion for the 110's and 140's.Trust me on down the road you'll notice a difference also in value versus the cub cadet and 316.Jim says he retired from a fire department in 1991 in lakewood colorado and also has a hobby in collecting and rebuilding antique clocks.Sounds like 2 fine hobbies to me jim.
June 21st, 09 James Bright just got done restoring his John Deere model 322.Very nice guy's click on the pic to check it out!.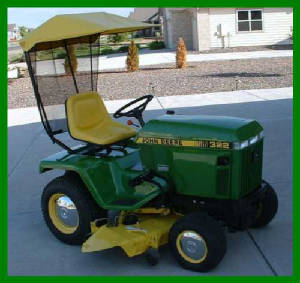 Update October 26th ,08 James has just about finished a fine looking john deere 110.He did an excellent job on it!.
Showing pics of the 110 before jim started on it.
Showing a pic below of the engine.The guy Jim bought this from said the engine was just rebuilt.Jim got it fired up and it smoked like crazy!.I've been there before buying a tractor the guy saying it was just rebuilt.You find out it was rebuilt by someone that had no clue in what they were doing.It just causes you twice the work,you would be better off if they left the engine alone.Here is Jim's email.
KEN HERE ARE MY LATEST PICTURES OF MY 110, I STARTED IT THIS SUMMER. HERE ARE BEFORE AND AFTER PICTURES. THE ENGINE WAS SUPPOSED TO BE REBUILT, BY THE GUY I BOUGHT IT FROM, AND RIGHT AFTER I TOOK THE PICTURES I TRIED TO START THE MOTOR, BUT NO GO. I TOOK IT BACK OUT AND REMOVED THE HEAD, AND FOUND THE VALVES NOT CLOSING, SO I GROUND OFF THE BOTTOM OF THE VALVES, REPLACED THE MOTOR , AND STARTED IT UP. I FILLED THE GARAGE WITH SMOKE, SO MUCH I COULDN'T SEE. I THOUGHT IT WAS BECAUSE IT WAS NEWLY REBUILT. BUT EVERY TIME I STARTED IT IT WOULD SMOKE. I THEN REMOVED THE ENGINE AGAIN, AND TOOK THE WHOLE THING APART, AND FOUND THE GOVERNOR GEAR HAD FALLEN OFF, AND THE BAR THAT HOLDS IT IN WAS MISSING. I TOOK IT TO A SHOP I KNOW AND HAD THEM LOOK AT IT, HE SAID THAT THE OIL RINGS ON THE BOTTOM OF THE PISTON, WERE OVERLAPPING ON THE ENDS OF THE RINGS, AND THAT WAS PROBABLY THE CAUSE OF THE SMOKING. I HAVE SINCE REORDER A NEW SET OF RINGS, AND AM NOW WAITING FOR THEM TO ARRIVE. AS FOR THE TRACTOR, I TOOK IT ALL THE WAY DOWN, SANDBLASTED AND PRIMED AND PAINTED WITH ACRYLIC ENAMEL. REPLACED ALL DECALS, POLISHED THE KNOBS, REBUILT THE DECK, NEW BEARINGS, PAINT AND DECALS, BUT HAVEN'T INSTALLED THE DECK YET WAITING FOR THE ENGINE TO BE RIGHT. JIM BRIGHT
Below are pics of the 110 with new paint really nice jim!.
You can tell when someone does a nice job on restoring an old tractor,no overspray, the wheels are painted right just a fine example of a 110.
Love jim's scissor jack need to get me one of those.
Well there ya go jim brights 110.I think this model of tractor was one of the best built tractors ever!!.I mean they had it nailed,the way they rode,steered mowed just everything seemed to be right on this tractor.
A clean good looking cub cadet 149.I used to have one of these myself a regular beast!.
The paint looks darker than the cub color almost a butterscotch.I need to ask jim if these are oringinal cub colors.Everyone knows for me it's not a big deal i'm not a totally original fan anyways I like it when you put your own touch on it.
Pics of jim's 316.He looks to have done a nice job on this tractor also.I myself like to run the smaller baby moons of the front instead of the bigger ones.You have the cool look of chrome but do not loose your deph in the wheel.

June 9th, 09 Below are pics of Jame's latest restoration.Thios is his very rare 120 patio model 120.A patio model JD is really rare in itself but to add it's a 120 patio model is just plain Ultra Rare.It looks like Jame';s did a supewr nice job on his sunset yellow patio 120.His email is below.Remeber to click on the pics for a better view. KW
Jame's Email:
It's been a while since I sent you some new pictures. I just finished a John Deere 120 Patio. I bought this last sommer in Colorado Springs, on Craigs list, for $100. It was in bad shape, and been sitting outside for a few winters. The rust was everywhere, You can see Rust Pits, on the Frame, and on the Engine cover. I my excitement to start redoing this tractor I didn't take any before pictures. I just started tearing it apart. The Kohler 12 hp had a broken skirt on the piston, and somewone hammered on the side of the starter, and when I took the starter apart, pieces came falling out, it was trash. I sandblasted every part, primed and painted, with a paint named VanSickle. It is oil based enamel, big mistake! It scratches so easy. and the shine looked beautiful when I finshed painting the finder pan, but when It dried, I lost most of the gloss. I went to napa auto and bought a polyethylene enamel Quart of John Deere yellow, with the hardner, and reducer, It is a beautiful paint, dried hard, and Is durable, and the shine is unmatched by anything I have ever used. I use to spray acrylic enamel, but this is far superior. The original color of this tractor was blue. but as you know to find a blue seat, is hard, and expensive. I used John Deere Yellow on the hood, and a new John Deere yellow seat. I jlust used a bright white for the frame. I decided to use a yellow for the Deck, as there was too much white, and it gave the tractor better contrast.

I think my next project will be a John Deere 140, whitch I think is aslo a patio. It is a TO583 with a low serial number. 12536. I looks as though someone redone it in green. no Decals, but they left the Deck and Mule drive white. I know that they were also green in the serial number range, but I am just assuming It was white. thanks Jim Bright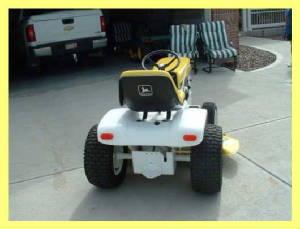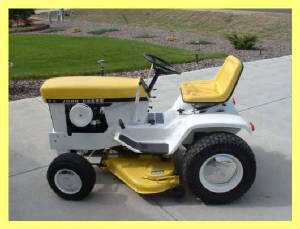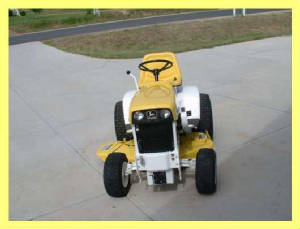 June 21st,09 Looks like Jim done another fine job on the restore of his John Deere Model 322.Below is his email.
Jim Wrote:
Hi! I just finished my 322 John Deere. This is the every day tractor, that I mow with. I didn't do a complete teardown, as this tractor was in good shape except for the paint. I used an acrylic enamel with hardner. I used an polyurethane on the deck. New bearings, and new belts, new decals, hubcaps, light lens, seat and a new sunshade. The tires were already new. The paint I used gives a great gloss, and should last a lot longer than the original JOhn Deere paint. Thanks Jim