My family and I are involved in restoring and using old wheel horse tractors. We currently have 11 of them. Five 1054's, three B-80's and three Lawn Rangers.

Lane Ralph
Greencastle, Indiana


Clifton and David Ralph
Gary, Indiana

Below are Lane's email on the info about their collection.

This photo is my brother David Ralph's B-80 Wheel Horse. He repainted it in black and Massey Ferguson red paint this year. New seat and other upgrades. The K181 8HP Kohler is new to the tractor as the original engine off this tractor gave out earlier this year. It has a real nice look to it. He does not use the mower deck on it anymore -he says it's too nice looking to use to mow!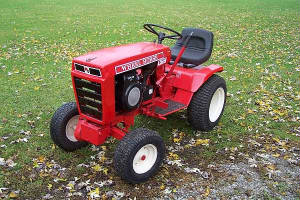 The other photo is my 1975 Wheel Horse B-80 with an 8 HP K181 Kohler engine., 42 inch snowplow and a 36 inch rear discharge mower deck. I use this for snowplowing, mowing and I have a Wheel Horse dump trailer for hauling. I have also used a lawn sweeper the last two years that works great on picking up leaves.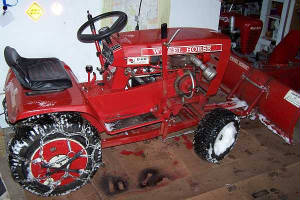 Next photo is of my 1967 Wheel Horse L-157 Lawn Ranger purchased in Michigan in 2008. It has a new 1962 Teccumshe H-60 electric start engine. The engine set on a shelf in Ohio for some time before I purchased it. This Lawn Ranger has a 32 inch gear driven two blade mower deck that I have used since purchsing it. I have a 32 inch snowblower that is all set up and redy to use this winter. I also have a snowplow which is also an original Wheel Horse snowplow for the tractor. I also have a 1967 L-107 with original paint that is a recoil start with H-60 Tecumseh engine. I have two other backup H-60's and an HH-60 cast iron head Tecumseh for these tractors.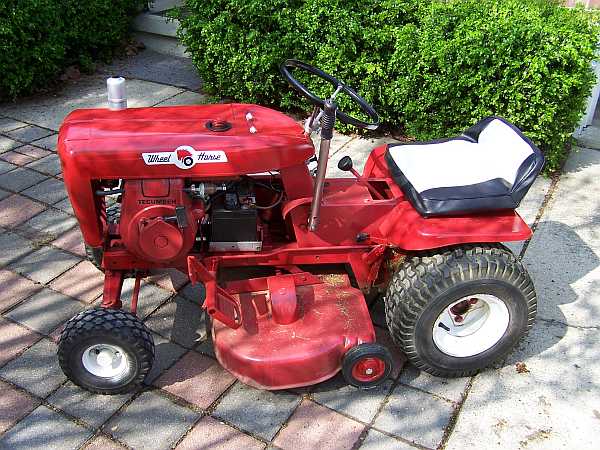 This photo is a 1965 Wheel Horse 1054-A purchased in 2009 from Milton, Canada (near Tornonto) that needed a transmission rebuilt in it. It was repainted by my brother David Ralph , seat was made by my sister Cindy Ard (her husband owns a trucking business and she makes seats for his trucks) and the rear has a drawbar hitch made by my father Clifton Ralph. This photo is the one used on the 1054 banner sold on Ebay by vinylguy, that makes all the Wheel Horse restoration decals.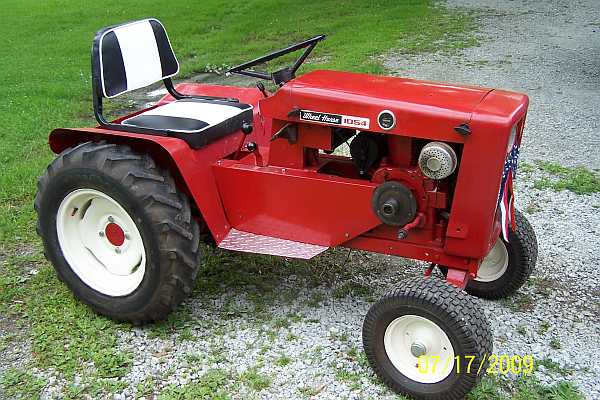 This photo was taken in July 2009 at my parents home in Gary, Indiana. The three tractors are Wheel Horse 1054's (and the one 1054-A). Some have diamond plate additions to the body sheet metal. These tractors are used -they are not show tractors. Two of them were taken to the August show in Portland, Indiana, one of them to the Pontiac, Illinois Staem and Power Sho in September in illinois and two to the Hindesboro, illinois July 4th Parade.