The family lives in indiana so they are neighbors to me.Actually not that far from me.Ray's uncle Del has the tractors,they have dead weight tractor pulls.Ray says august 2nd they are holding a pull at kingsford heights at there festival here in indiana.Ray says some of the tractors are set up to pull but others have been restored to there original state.His uncle del made a mini 4020 out of a john deere 110 it looks really nice.Thats ray's uncle del below sitting on the 4020.
A cool pic of the 4020 ready to pull.
This is a 1967 Toro Suburban. Ray was told they were only made in 1966 and 1967. He said he will send pics of what it looked like when he started. Definitly a wild looking critter eh?.
Ray's uncle Del lives in Bourbon and ray lives about two miles north of Macy, IN. He started buying tractors and with the family they hold dead weight tractor pulls. His moto is, "a family that plays together, stays together." Not original but it does get them together a lot. August 2nd they are holding a pull at Kingsford Heights for their festival.
When doing this they also have restored some of them to their original being. Del wanted to see if he could make one look like a John Deere 4020. Thus the Mini 4020. They hated to cut holes in the hood but it was the only way to make it look like the 4020. They always carry a welding glove just in case they need to open the hood. The muffler and breather just slip onto the exhaust pipe and breather pipe. He took his ideas to Faulkner Fabricators there in Bourbon. and with there basic shaping he cut and welded the metal to look like he wanted. They spent many hours sanding, blasting, and painting. Mainly they use Van Sickle paint that they purchase at Smith farm store in Plymouth and Rochester. The 110 and 112s for about two years had Tecumseh engines. They had some problems getting the engine to run right. They blamed it on the fact that they weren't Kohler engines. After much trial and error they discovered that the carburetor mounting bolt had been twisted off at one time, then was put back on with liquid metal. There was a small hole that was allowing air in creating a rough running engine. They rewelded the bolt and have had no problems since.
They restored two 110s. One for his grandson and the other for his nephew who lives in Fairmount.
They have Allis Chalmers, Ford, Sears, John Deere, Toro, Cub Cadet, and Wheel Horse.
One of the 110's below,looks like they did a real nice job on it.
The pictures below are from a benefit pull they did in Summitville, IN last fall. It was for a family member with cancer. They had about 33 drivers and about 25 tractors participating. The Summitville fir dept. provided safety equipment. they donated some to there general fund for doing so.
They require all tractors to have wheelie bars and decks must be removed. No more than 150 LB. of external weight. Drawbar no higher than 13". They opened this pull up to the public. They had a concession stand and between it and the proceeds from the pull they gave $1000.00 dollars to the family and $100.00 to the fire department. They had a hat for anyone to put donations in also. For this one they only gave trophies to winners. Usually they give cash also. The only expense they take out is the cost for the trophies.
They hold their pulls in Bourbon, North Webster, Sidney, Macy, Summitville.They are holding one at Kingsford Heights on Saturday, Aug. 2. Start time is 10:00 EST. 9:00am local time.
An Impressive row of old tractors at the pull.
The mini 4020 looks right at home diggen for that full pull!.
Check out the old round fender gettin down to business!.
No your not seeing things that is a pink wheel horse!!.
Another shot of the old round fender.
Another nice shot of them all lined up.
I just love this old allis chalmers.This body style is hard to find around here anyways.The headlights even make it a more rare beast!.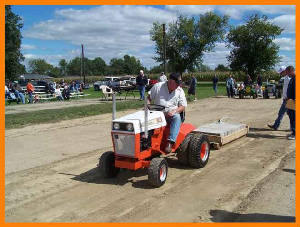 Another nice shot of the round fenders.