This is my uncle ovie's Deere collection,he lives in tennessee.He actually bought the 318 off of me and the 300 off my uncle nick.He does an awesome job on painting his tractors.I only hope to be half as good a painter as him one day.Check out the striping he does on his tractors,looks really cool to me.When you click on a model of tractor he has,it will go to another page that is for that model.
Ovies john deere 318
This is his 300
Ovies john deere 110 1972
Ovies custom painted MTD's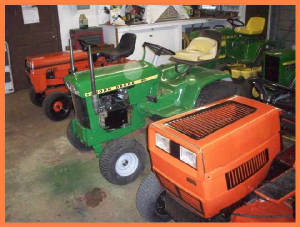 Below is a little 111 that he restored.He did a fine job I never liked 111's until I seen this actually a cool looking little tractor.Nice job on the trailer to.I've only got one picture of the 111 so it does not go to another page.Click on the pic for a bigger view.
Below a nice little round fender I think a 66 ?.I've only got one picture of this one also click on the pic for a bigger view.
Below are some group shots of ovies collection,click on the pics for a better view.