December 11th, 08 Hey everybody,I bought 3 tractors yesterday i'll tell you a little bit about them as you scroll down to view.
Ok first is the 1967 112 John Deere Round fender.I posted this one on MTF.This tractor was way better than I expected.I checked it out really good today and I'll list what I found.
The guy that I bought it from said it had a brand new engine on it (Tecumseh HH100) with less than 20 hours he said more like 10.

I know there are some of you guys that are not big tecumseh fans I however actually am.I've had some really nice ones.The main problem I have with them is if you don't have a friggen 2 foot long screw driver to adjust the carb your going to be burning your fingers bigtime!!.This is one of the sweetest tecumseh's i've ever heard run and it should being brand new.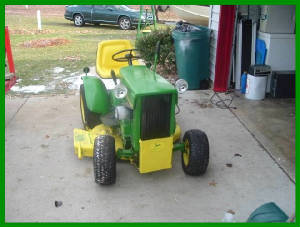 I know the seat is not correct (Which I'll Take Care Of) and pretty sure the headlights and tail lights are not either.But will probably leave them alone I really don't want to fill in holes in the hood and fenders.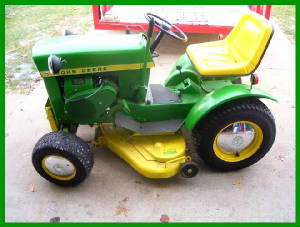 I did fire her up and went out into the yard and engaged the deck.I believe the guy saying there are new deck bearings I had to look to see if the deck was turning and it was!!.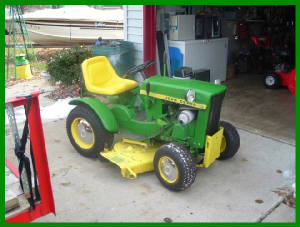 He was definitly telling the truth about the hubcaps being new.There is not one blemish on any of them.I'm going to take them off before I store the tractor and put them in the house.I'm afraid moisture might make them rust being in the shed.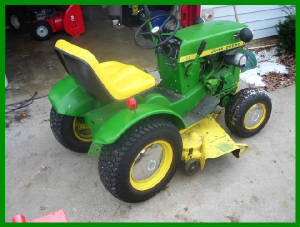 Even tho the seat is not correct the tractor rides really nice but I'll have to put the old pan seat on it it just doesn't look like a round fender with this seat on it.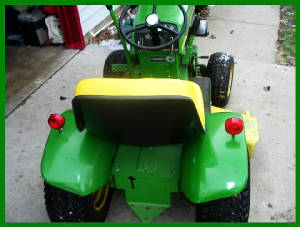 Well there ya go guys she really is a nice 112.I think a lot of you know I can't live with the paint job.I'll be taking her down and repainting and of course she'll get a few coats of clear you'll see a big change.Don't know for sure when I've got so many projects now it's crazy but i'll get her done before summer is over.
Below is a list of the new things I found on the 112

New Battery

New Tires All the way around.

New deck bearings.

New belts.

New starter generator

New Engine

New seat.

New blades on mower deck.

New decals.

New dash decal