Paul has one of the coolest collections around.Everything he has i've pretty much always wanted.A real nice guy,he runs a yahoo groups site for us garden tractor guys.I've got the link posted below join up a lot of nice people there.Each tractor on pauls page goes to another page.Just click on the tractor you want to look at and it will take you to the page of that specific tractor.
Click here to go to pauls tractor page on yahoogroups.

The tractors below the divider are also pauls tractors but i've only got one pic of each.When paul updates i'll put them on their own page.
1967 sears custom 6 6Hp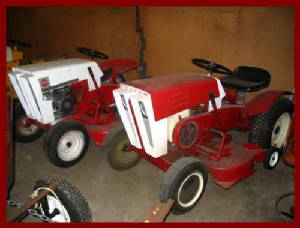 Pauls tractors that I haven't got pictures for yet.
1980 WH-D160
1957 WH 857 8 HP Kohler