Update March 26th, 09 Don put new rubber on his bolens looks really cool!.Scroll to the bottom to check it out.
Don has a nice little collection here.I really like the Cub Cadet 122 dually.He needs a engine for this model.I myself have nothing like that right now if any of you do please email me i'll pass it along to don.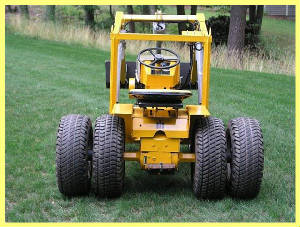 Here is the email Don sent me.
Hi Ken, Sounds good to me... I have 4 tractors, at the moment I only have pictures of 3. You can post them if you wish... I am from Hudson NH, USA. I have a 66 CC 122 with custom FEL. I caught the tractor bug when I picked this one up. It was my 1st tractor. It is the one that I care most about. It was built by a old timer named Jeff. He passed away from cancer about 4 years ago. He was a metal worker and built it from scratch... It is a very strong little tractor. Has done everything I have asked of it. I put allot of time and energy into this tractor during its "reconditioning". The motor had a rod rap from the very beginning. I ran it for 4 years and decided to do the engine over and discovered the crack while getting it magnafluxed. I do have a mini block M12 I am building, pain to find the parts... I also have a 69 Bolens 1455 with 14 HP Wisconsin engine. I have 2 42" snocasters, 1 for parts the other for primary use. Also came with a 32" barely used tiller with all the driveshaft's and lift arms... I also have a late 60's Jacobsen Chief 800. This is a feisty tractor that has never let me down. Pulls like a banshee for a light weight tractor.... I also have a 03 JD L120... I use this guy for lawn cutting only. It has been faithful and good running for the last couple years to me... My favorite at the moment (it is winter) is the Bolens large frame snow remover. It is a pretty large tractor weighing in at about 1200lbs with the snocaster... I like all the tractors for different reasons. They all call me at different times to come and play and work. I prefer to have multiple tractors instead of multiple accessories. That's just me...lol I hope this is enough for you. If not let me know. I can come up with more. Let me know when you post the tractors and the info on them. It will be cool to see it on your site... Take care, Don