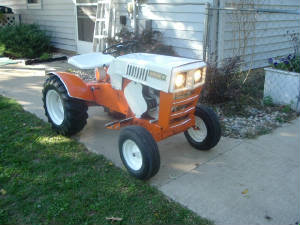 Sears Tractors model numbers always begin with 917. followed by another four, five or six digits. Every manufacturer has their own prefix similar to the "917" that Sears used.
In the 60's and 70's Sears basically built three different types of tractors that are covered on the searstractor.com website.I'll have the link to the site below. The Custom (1964 - 1979), 1st Generation Suburban (1959 - 1965) and 2nd Generation Suburban (1966 - 1979).
A really informative sears site.If you need any help looking up a part or finding the year of your tractor just let me know i'll be glad to help you with it.
Click Here to go to sears tractor.com

The Custom 1964-1979 Code Numbers posted below.


Model Number Year Model Start Type
917.99500 1964 Custom 600 Recoil
917.99510 1964 Custom 600 Electric
917.99511 1964 Custom 600 Electric
917.99520 1965 Custom 600 Recoil
917.99530 1965 Custom 600 Electric
917.8360 1965 Semi-Commercial Recoil
917.8370 1965 Semi-Commercial Electric
917.8371 1965 Semi-Commercial Electric
917.99800 1966 Custom 600 Recoil
917.99820 1966 Custom 600 Electric
917.25080 1966 Custom 600 Recoil
917.25081 1966 Custom 600 Recoil
917.25090 1966 Custom 600 Electric
917.25091 1966 Custom 600 Electric
917.25092 1966 Custom 600 Electric
917.25010 1967 Custom 6 Recoil
917.25011 1967 Custom 6 Recoil
917.25020 1967 Custom 6 Electric
917.25021 1967 Custom 6 Electric
917.25220 1968 Custom 7 Recoil
917.25221 1968 Custom 7 Recoil
917.25230 1968 Custom 7 Electric
917.25231 1968 Custom 7 Electric
917.25260 1968 Custom 10 XL Electric
917.25261 1968 Custom 10 XL Electric
917.25430 1969 Custom 7 Recoil
917.25440 1969 Custom 7 Electric
917.25420 1969 Custom 10 XL Electric
917.25480 1970 Compact 7 Recoil
917.25481 1970 Compact 7 Recoil
917.25450 1970 Custom 7 Recoil
917.25460 1970 Custom 7 Electric
917.25490 1970 Custom 8 Electric
917.25470 1970 Custom 10 XL Electric
917.25290 1971 Compact 7 Recoil
917.25570 1971 Custom 8 Recoil
917.25580 1971 Custom 8 Electric
917.25590 1971 Custom 10 XL Electric
917.25290 1972 Compact 7 Recoil
917.25030 1972 Compact 8 Recoil
917.25040 1972 Compact 8E Electric
917.25041 1972 Compact 8E Electric
917.25050 1972 Custom 8E Electric
917.25051 1972 Custom 8E Electric
917.25060 1972 Custom 10 XL Electric
917.25061 1972 Custom 10 XL Electric
917.25070 1972 Custom 10E Electric
917.25720 1973 ST 10 Electric
917.25731 1973 ST 12 Electric
917.25732 1974 ST 12 Electric
917.25721 1974 ST 10 Electric
917.25722 1975 ST 10 Electric
917.25863 1975 ST 12 Electric
917.25920 1976 ST 10 Electric
917.25921 1976 ST 10 Electric
917.25140 1977 10/6 Electric
917.25141 1977 10/6 Electric
917.25150 1977 12/6 Electric
917.25151 1977 12/6 Electric
917.25160 1977 14/6 Electric
917.25161 1977 14/6 Electric
917.257020 1978 11 HP Vari-drive Electric
917.257030 1978 14 HP Vari-drive Electric
917.257020 1979 11 HP Vari-drive Electric
917.257030 1979 14 HP Vari-drive Electric

1st. Generation Suburban 1959-1965

Model Number Year Model Start Type
917.60601 1959 Suburban Recoil
917.60602 1959 Suburban Electric
917.60613 1960 Suburban Recoil
917.60614 1960 Suburban Electric
917.60616 1961 Suburban Recoil
917.60617 1961 Suburban Electric
917.60618 1961 Suburban 575 Recoil
917.60619 1961 Suburban 575 Recoil
917.60622 1962 Suburban Recoil
917.60623 1962 Suburban 725 Recoil
917.60624 1962 Suburban 725 Electric
917.60628 1962 Suburban 600 Recoil
917.60629 1963 Suburban 725 Electric
917.60630 1963 Suburban 725 Recoil
917.60633 1964 Suburban 725 Recoil
917.60634 1964 Suburban 725 Electric
917.60637 1964 Suburban 600 Recoil
917.99080 1965 Suburban 600 Recoil
917.99030 1965 Suburban 8 Recoil
917.60644 1965 Suburban 8 Recoil
917.99040 1965 Suburban 8 Electric
917.60645 1965 Suburban 8 Electric
917.99050 1965 Suburban 10 Electric
917.60646 1965 Suburban 10 Electric
917.60647 1965 Suburban 600 Recoil


2nd. Generation Suburban 1966-1979

Model Number Year Model Start Type
917.60601 1959 Suburban Recoil
917.60602 1959 Suburban Electric
917.60613 1960 Suburban Recoil
917.60614 1960 Suburban Electric
917.60616 1961 Suburban Recoil
917.60617 1961 Suburban Electric
917.60618 1961 Suburban 575 Recoil
917.60619 1961 Suburban 575 Recoil
917.60622 1962 Suburban Recoil
917.60623 1962 Suburban 725 Recoil
917.60624 1962 Suburban 725 Electric
917.60628 1962 Suburban 600 Recoil
917.60629 1963 Suburban 725 Electric
917.60630 1963 Suburban 725 Recoil
917.60633 1964 Suburban 725 Recoil
917.60634 1964 Suburban 725 Electric
917.60637 1964 Suburban 600 Recoil
917.99080 1965 Suburban 600 Recoil
917.99030 1965 Suburban 8 Recoil
917.60644 1965 Suburban 8 Recoil
917.99040 1965 Suburban 8 Electric
917.60645 1965 Suburban 8 Electric
917.99050 1965 Suburban 10 Electric
917.60646 1965 Suburban 10 Electric
917.60647 1965 Suburban 600 Recoil