This is a little project i've been working on and forgot all about posting it.It's a simplicity 4211 hydro.I bought it off ebay for $60,drove about 50 miles to get it so all in all a good deal.The engine was shot so I put a 11hp. I had laying around.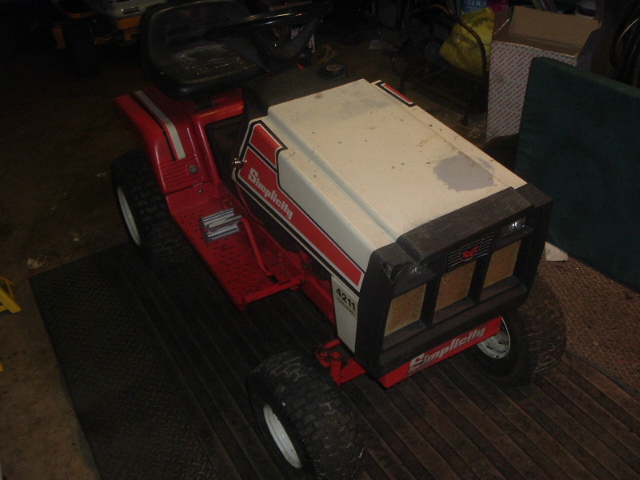 Fired the engine up it runs like a top,your typical slight oil leak on just about every old briggs engine I've ever seen.I started it got on it and it would not move!!,checked the valve release lever and still nothing I was really bummed out all this work and the hydro is shot.Forgot to mention the wiring was also a nightmare I ended up bypassing the solenoid and just put a starter button on it.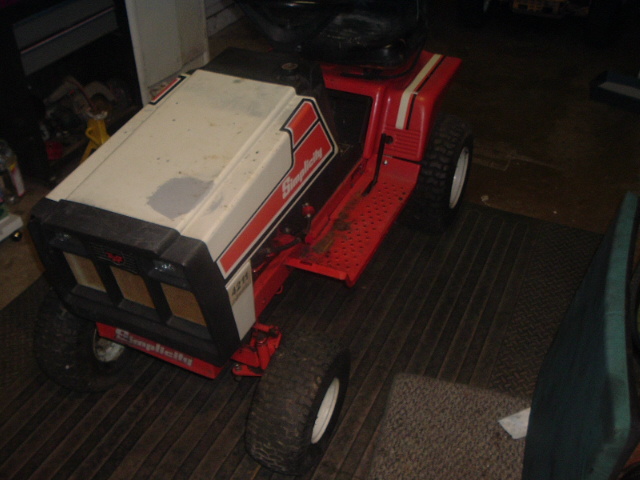 I was so agravated with it I guess I just wasn't thinking.I posted the problem on MTF and Rustyoldjunk told me to check the hydro valve underneath ,I did and that was it.The hydro works great.Thanks rusty really appreciate it.I felt kinda stupid after I went and looked it over that was the first thing I should have checked.Stay tuned should be putting the deck on her tommorrow to see how she cuts!.
October 13th, 08 Well got the deck on her and she cuts perfect like I pretty much knew she would.You can not go wrong on this little model of simplicity.I'll say it over and over for the price you can get these at they are the very best cutting tractor around.Don't know if I'll paint it or not,the hydro is very strong actually one of the strongest i've ever used.I took it over to my neighbors and tried it out he has a huge hil and it climded it and never slowed down.I mean it acted like a gear drive never had one that didn't slow down just a little in a real hard climb but not this one.It doesn';t whine either like most of the hydro's i've owned.Will post more pics tommorrow.