Got some info from rick here is what he had to say.
Well my names Rick Mast and my friends name is Bill Eggett. I was actually on ebay looking for an old ford as i used to have one as a kid and
came across the speedex. Looking at it I just had have it, I was the only bidder as the seller had a reserve of 250 but i thought what the hell.
I bid, won, and drove 450 miles to pick it up. My best friend Bill likes it so much he said he wanted one. Thinking back many years, about 15 years,
I remembered a small tractor sitting beside a shed close to where I used to live 15 years earlier. We went to look at it but nobody was home and I was suprised it was still there. I left a note in the mailbox with my intentions to purchase it and left. Bill was hoping so much he'd call soon. days went by, then a week, when we thought all was lost the guy had called. Making a deal with him to purchase the tractor for 100 bucks I called Bill saying no he diddn't want to sell it then I said I bought it then said that was a lie, I had him going for while, but eventually gave in and told him we have to pick it up that night as the guy was going away for another week. So we went and picked it up and the guy said he didn't know what brand it was but was bought new in 1966 from Sears. So we got it to my shop and stripped it down to the last bolt and cleaned it up, put a couple extra welds where the framed had broken before, painted it and put it back together. Still not knowing what brand it was, it was only until Bill had found your site that it was a MotoMow. We now put all over town getting neat looks and thumbs up.
A pair of cool old tractors for sure.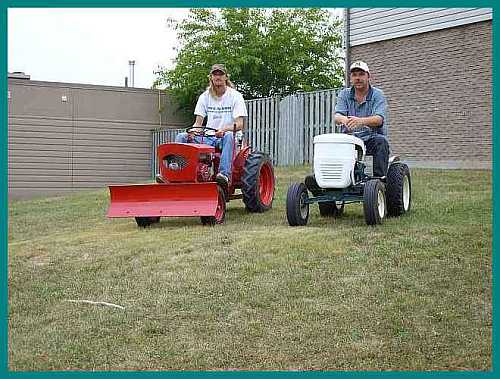 Check out the little motomower.I love the hoods on these things.This one is actually more complete than mine,he has the belt guard mine didn't come with one but i'm sure it's supposed to have it.
A really cool looking speedex.It is a model S-19
He fabricated the blade onto the speedex himself.He has video on it on youtube you can check it out below.