Febuary 17th ,09 Casey's Cool Gilson is below.
Check out casey's awesome springfield garden tractor.I love the style to these little tractors.The hood has a really nice rolled looked and the fenders also have there own unique look.If I had one of these you would not believe the idea's that I could probably come up with,i'd probably not sleep at night thinking of things to do to one of these little guys lol.I think casey has idea's of keeping them close to stock as possible and thats probably the smartest way to do it because they definitly are a rare tractor.Remember to always click on the pics for a better view.Aage and casey both sent nice emails along with their pics,anyone that wants to send pics for this page try to send some info like casey and aage did,this gives the rest of us some history and info about your tractors yourself etc.Way to go casey and Aage that was perfect!!.
Here is the info casey sent me on the springfield,oh by the way he does have more tractors that will be posted soon.

Casey Wrote: Here are some pictures and a description: Springfield garden tractors were built between the years 1962 and 1966 by the Quick Manufacturing Company. They used both Kohler and B&S engines with both electric and recoil starting options.The tractors were red with white trim up to 1964. Then, in 1965 and 1966, they were orange with white trim. The fact they were red and not orange fooled me for about a year due to the red paint having faded. I have most the Springfield tractor manuals.I also have unidentified Springfield implement parts on the shelf.I will post on here as I go thru everything.I do have a push blade and a mower deck as of now.On August 1st 1966, Toro purchased the Quick Manufacturing Company, ending the production of a great garden tractor. The Springfield shown is a 1963 model with modifications by a previous owner, including headlights and a different engine, a B&S of probably 8 horsepower. This tractor has original tires and paint, which looks buffed out some. I have the original mower deck with this one, however, its drive coupling is damaged. One day I might repair it, however, I plan to take it to shows and would rather have ground clearance than mowing ability. I do not plan on restoring this tractor, it's to nice to tear down.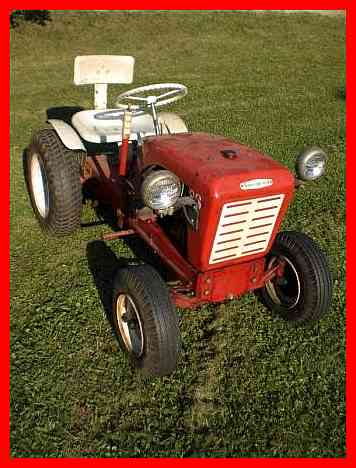 Casey's Montgomery Wards Made By Gilson Tractor.
I pretty much really like this tractor.I like the looks of it looks like a true workhorse.The fenders are cool on it to never seen them quite like that.Here's what casey had to say.Remember to click on the pics for a better view.
Casey Wrote:
I just got my 1972 Montgomery Wards Varispeed 16 hp tractor home. It was manufactred by Gilson for MW and came with a tiller, a belly mower (on front of trailer), a sleeve hitch, a moldboard plow, a disk, and dual turf tires with chains. Also came with a Brinly rear sleeve hitch blade (most was still in the back of the truck when the pictures were taken). The seller was a little sad to see it go since he owned it longer than he has been married to his wife lol. He was the second owner and repainted the tractor 20 years ago, and it has been shed kept ever since. It does run and drive (it starts hard though) and I did drive it around some, and then into my shop, which was harder than you think, I need a better ramp than a pallet propped up on bricks lol. Anyway, enjoy the pictures.