Ok guys I cleaned up the 63 today.I'd like your opinions on whether or not to restore or leave alone.I'm one that loves to take something old and turn into something cool but I also am one that loves old tractors and I do listen to what others have to say.Some of the wheel horse guys say to not touch,it's pretty rare so take a good look and give me your opinion.I don't think it has ever been repainted but you guys might see something that I didn't.If enough say to leave it alone then thats what I will do.,thanks for helping me decide,trust me I have tons of projects from scooters to old push mowers so skipping one will not be a big deal.
Ok this will get you started I cleaned it up some today,the wheels are not to bad but far from perfect.Remember you can click on the pic for a bigger view.
You can tell the hood has definitly had work done,I'm guessing brazing,soldering don't know about this kind of stuff.They did a pretty good job as to do the work on the inside of the hood,you can not tell anything on the topside.
They also had to do some repairs on the sides as you can see.Still everything done on the inside nothing shows on the outside of the hood.
Same thing on the other side,will this hurt it for being original?,just curious how work like this affects value.
Showing some close up pics of the hood,I myself think this looks original,it looks like a thin layer of paint.
A pic of the top of the hood,it has that shiny kinda dull look that reminds me of old original paint
The decals are really nice it doesn't look like they were ever masked for new paint,both sides look really good.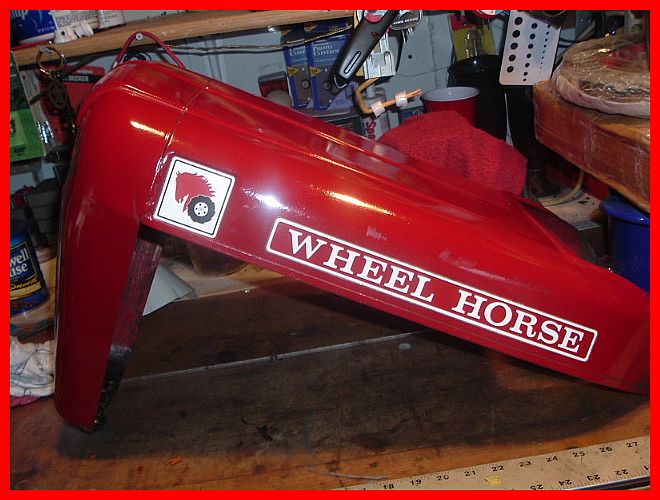 The rest of the pics are different angles of the tractor.
Close up pic of the engine cover,it says K 141 on the tag.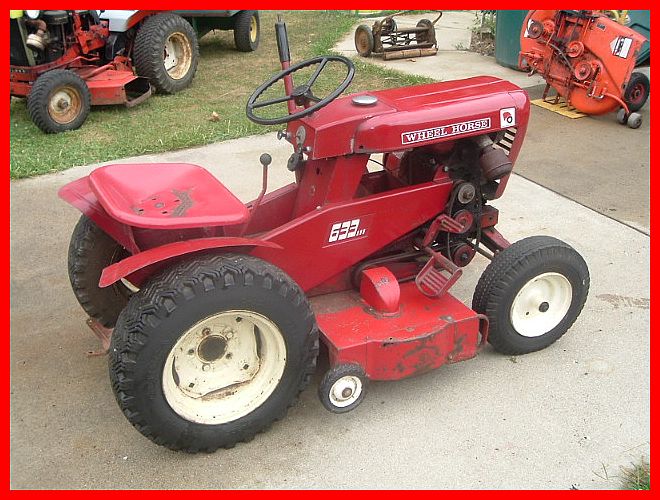 Ok guys there ya go,give me your opinion on it,would you leave it alone? or would you redo it.I'm not trying to grab any glory or get attention,I really don't care if it's worth an amount of money restored or not.I'm just curious what you would do if it were yours.I've restored quite a few tractors thru the years so it's definitly not a problem but really don't want to mess with it especially if the wheel horse guys think I shouldn't or other tractor guys for that matter,thanks a bunch,,,,,,motomow