Ok here is something that was one of the coolest things and biggest surprises i've ever seen.My uncle nick and I went to a guys house to buy a john deere 318.I seen it in the paper and it sounded like a real good buy,the ad said it ran nice and he was asking $1200 for it,so we went to check it out.We walked into his barn and there were rows upon rows of tractors.I mean john deere,simplicity,wheel horse just about all of them.I bet there were 40 tractors total.I said wow do you collect tractors (feeling stupid for even asking such a dumb question) and to my surprise he said no lol.I said what?,he said nope I just buy them until they start messing up then i go get another one.He said do you want to know what I like to collect?.I said sure,we go into this other barn and there were row after row of old antique scooters and motorcycles.I mean nice stuff again I'd say probably another 40 of them.You'll see pictures of them below not the best shots but all of the buildings were dark.He wasn't done yet we went to another building and there was sitting in there a 1955 chevy belair red and white,a 1967 chevelle supersport and the holy grail a 1966 corvette stingray split window coupe.We were both just shocked with all the stuff he had.I mean the tractors alone were amazing these were not the cheap ones either you'll see in the pics.There were probably 20 simplicity sunstars and I gotta tell ya those are not cheap!.John deere gators,420's 318's I mean the nice ones.He even had custom made parade karts,bunches of dirt bikes,quads etc.

He also had tons of stuff outside behind barns,beside barns,big wheel horses,Cubs and others.Me and my uncle to this day talk about that.How does a guy like that get so much stuff?.I mean his house was nothing special just an old farm house.He acted like none of it was a big deal.The sad thing was just about everything was in a barn but it was uncovered the bikes were really dirty,the cars looked mint but there was bird crap all over them,A few were partially covered but just about everything was not.I mean this place had probably more things to look at than most museums.It was one of the most bizarre coolest things I've ever seen.I almost thought about going back sometime to make sure I'm not crazy!! Lol.Oh by the way I did buy the 318 and later sold it to my other uncle ovie,he restored it and you would not believe how nice it looks now.
You can see some of the sunstars in this pic(top left ).It was hard to get a good shot because of so much stuff in the buildings.Click on the pics to get a better view.
Here is a better view of the sunstars,trust me there was a lot more than this!.
This was the 318 I bought.It actually was in a lot better shape than what it showed here.Notice all of the odds and ends tractors scattered about this was just one of many buildings full of stuff.
This is one of the 430's he had.If I remember right I think he said he had 4 of these.
Shot of the parade cars/golf carts/go karts I was talking about he had a bunch of misc. stuff like this
Here was the building that the bikes were in.
Check out the scooters are they cool or what!.
See what I told ya,he had rows of these things!!
I loved these old whizzers with all the chrome and the whitewall tires.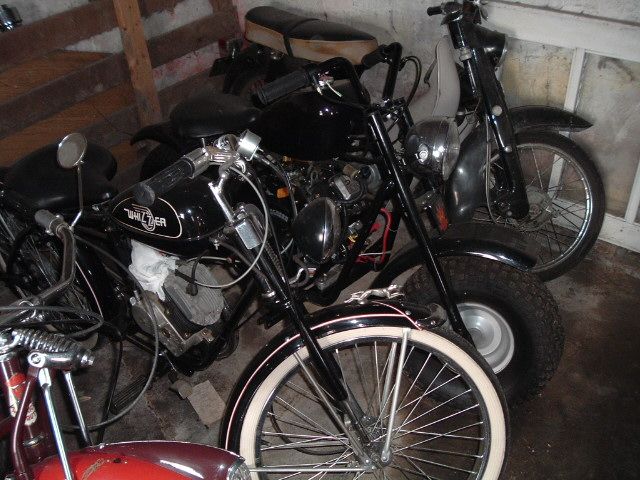 Here is a pic of the 67 chevelle SS note all of the bird crap all over the back end.Seemed such a shame to have such a beautiful car in an old barn uncovered.
A pic of the 55 chevy belair,it at least was partially covered.
I didn't get a pic of the vette because it had junk all around it couldn't get to it to take a pic.There was lots more stuff to look at but the guy seemed like he was getting a little bored showing things so we left.Well there ya go thought I was stretching it didn't ya lol.