Click here to contact kim and chris.
October 10th, 08 Chris and kim finally got there lambert delivered click on the picture below to check it out.
September 28th, 08 Click on the pic below to get all the info on the jd round fender.
The full scoop on chris's copar panzer,click the pic below.
August 21st,08 Well the lambert finally took off for new zealand yesterday.Chris was having trouble finding a company that was reasonable in price some of them were ridiculus!.A guy came in a dually diesel truck with a enclosed trailer.he had a shelby mustang in it also cool looking car!.
There she is all strapped down.I strapped it down myself to make sure it was not scratched up .I sure hope they show a little care when they crate it up.
The guy that picked it up told me it was going to chicago to be crated and then on to new york where it will be put on the cargo ship.
And there she goes to be delivered half way accross the world!!.
Meet my new friends from new zealand,they bought the old lambert on ebay.They are sure a cute looking family eh.June 29th 08,added some more pics of their house and their tree houses really cool stuff.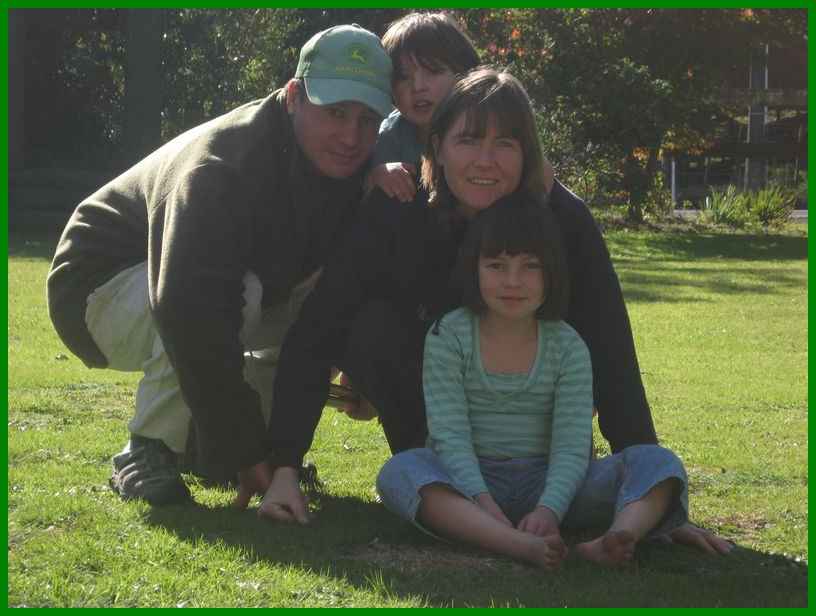 They are avid fans of older vehicles & have 3 vintage cars in their barn. These are rare vehicles GM HOldens & they are only in AUstralia & NZ. Have a look on the internet for similar models. 1956 FJ
Utility, 1951 FX Utility & 1962 EJ Stationwagon.
They are Mowing contractors & have been in business for 4 years. They only
use John Deere equipment. They also do a bit of landscaping here & there. They
have 2 x X595 mowers, 1 with a fully enclosed cab & the other mower has the
loader attachment. Also have a LX280 4 wheel steer, spreader attachment,
catcher system, & lots of other bits & pieces.
Chris recently bought an old Rover Rancher mower - people in the states has probably never heard of them - 3 speed gearbox, replaced the motor with 14hp vanguard, altered it by changing seat, welding on guards, just mucking about with it to make it look nicer. Chris says he has had alot of fun playing around with it but it is nothing fancy.Notice how it seems all of the mowers overseas look lower to the ground than what we have in the states.
Below is a pic of their dog,he reminds me of my dog lardbucket well of course lard bucket is much fatter lol.He looks like he knew his picture was being taken,looks like a pic you'd see on a dog calender.
This is chris and kim's house a nice looking place I also like the looks of the little truck out front,kinda looks like the chevy SSR we have over here.
This is a tree house they were building below are pics of it done,it turned out really nice!.
Check it out,is this not nice or what!.I'd say a lot of people wouldn't mind a bit living in this tree house as their main place!.Theyu said they got the idea from looking on the internet,I guess these are popular over here in the states didn't know that myself of course I don't get out much lol.Awesome treehouse kim and chris!.They said they also built a smaller one for their kids.Here is the link if you want to check out the place they found on the net.
click on the map below if you want to know more about new zealand.