Nathan also has a john deere LT-155 I'll post pics of that soon also.Below is nathan's story.
Well it all started when a friend of mine called me up and asked me what he could do with a mower he got and took the deck off of. He said he wanted to get rid of it so I said bring it out here I'll scrap it out for steel and aluminium. So he did when it got here had all four tire up and was missing the deck and gastank. We hooked up a tank and fired the motor it ran, but had a pretty good knock. so i said well good enough and used it like that for a year or so. We have a few extra engines so it don't matter. Then the mods began bypassed all safty switches and made a new battery holder. Then came the trailer hitch, so i thought to my self i got a mower with no deck what can i use it for besides pulling a little crappy 4 wheel trailer. I know, build a 3 ft by 4ft by 1 ft deep dump trailer for it. And thats what we did Its the red trailer. Well what else now, hell we live in Iowa and the snow blowers are kind of large to use on less than 6 inches of snow so lets put a blade on it for snow. thats when the blade came along with the boat trailer winch to raise and lower it. the blade has adjustable feet to copensate for wear on the bottom stainless steel cutting blade. If im going to drive this in the snow I'm gonna need traction. Bought a 20 dollar set of chains from Bomgars for a car and modified them to fit the 16x6.5 8 in rim tires. We also added 160 pounds of lead weight in inguit form, courtesy of the local tire shop. Had to melt it into the forms though, a bread pan. Oh lets see finaly got tired of our old 3 wheel big mow mower scalpin the hills and gettin stuck of we bought the John deere LT 155 and look poop bigger tires for the front 13x 6 i think just had to swapp out bearings and thin the hub a little. I also pirated the 8 hp syncro balaced briggs. Then we got a call from our local John Deere dealer ship after we went lookin for a new transmission output spocket. Just so happens they had an extra mower there and said we could have it if we come and got it so now I got extra parts all four tire were pretty good so I built duals for the rear. Helps out alot on loose dirt, u dont sink in and get stuck. Oh boy isn't this thing strarting to shape up. Well now what I happen to have and extra pulley on the bottom of the mower so along came the car alternater, no more draggin out the battery charger to jump off a dead car. We then started the next project a 6ft by 9ft utility trailer. We can use it to transport the mowers and stuff more easily. In the mean time my father found the exhaust stack in the garbage at work complete with flapper so it went on the tractor. Used the tractor to pull the trailer up into a tree to paint it. Man this thing comes in handy. Then we discovered that the original bearings would not handle the strees put on them by the torque of the chain so we had to fix it well if ur going to build it, build it, you know what i mean. Along came the complete rebuild and modification. I build a whole new support stucture on the rear for the axel and welded the now receiver style hitch to it, came about to pull new trailer and log splitter around the yard. Also the alternater and battery could be mounted better and why not put lights on it. So the upper frame work came along too. I used all the original brakes and rear axle for the differential in it. Otherwise this thing would never turn. Put 3 pillow block bearings on the axel. Also a neighbor came over with a mini beer keg and doanated it to the project, poof new gas tank. Well how do u see how much gas is in it, build a sight glass. Ok what to do with the ugly led weights now if we're going to have a pretty mower. Well melt them down and bolt them on in the form of 2 weight boxes, each now weighs 170 pounds acording to the bathroom scale which is a little on the light side. We relocated the alternater to the upper frame work, using the factory 78 chevy van bracket, and courtesy of the top pulley on the motor for a big mower, otherwise known as a swisher. Had to streangthen the front plate for the blade mount. Then the wiring came headlights, tailights, turnsignals, hazard, and a trailer pig tail, complete with turn indicators on the steering colum. Oh yeah we need new stickers thottle is now reversed and its not an R 72 any more so its a Super R 72. Since building the new frame the chains won't clear any more for the winter so get some lug tires. But wait we need new rims, bought another mower for 25 dollars got more spare parts plus the rims. After all this work we found that under a decent load, IE pulling the 85 chevy truck up a hill it likes to do wheelies when u first start. What to do about that can't have my old man riding around on the blade of the mower for extra weight. We started lookin into tractor suitcase weights, they were way too expensive for us so we improvised. My father found some 1/2 and 3/4 inch plate at work that was mis cut and bought it a scrap price for 20 which got us right about 220 pounds. So we made our own weights and brackes for the back of the blade, and made the blade lockable in the up position to take the stress. Oh yeah did I mention this will all fit though the shop door thats 32 inches wide.
I think thats it all kind of long I know. But now whats next oh theres a few things.
thanks for reading i hope u enjoy
Nathan Werneburg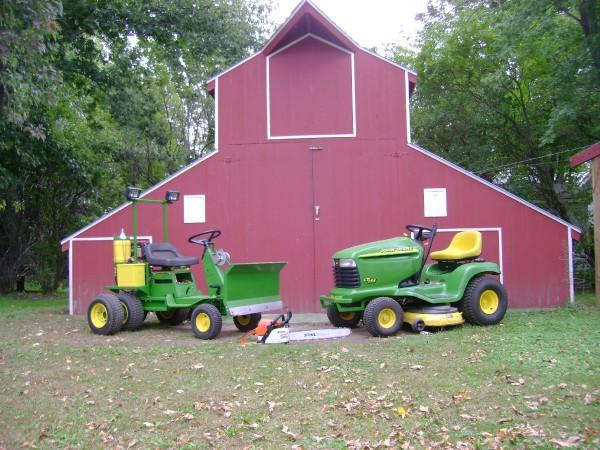 Below is the R-72 From teardown to buildup.Click on the picture to go to nathan's R-72 page.
January 19th, 09 Nathan added some snow plowing pics of the R-72 check it out.The pic below goes to another page.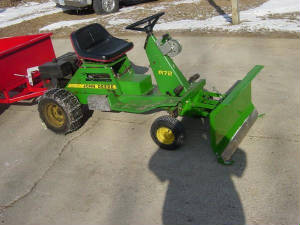 Nathan's Trailer.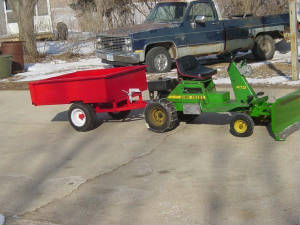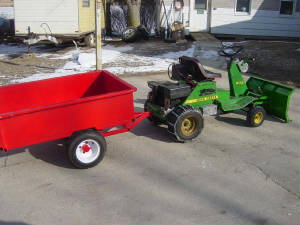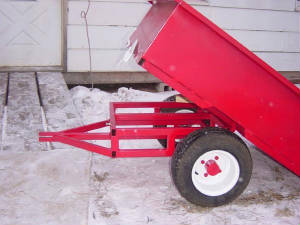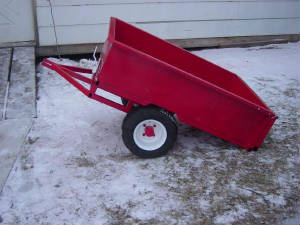 Nathan's new Trailer project,click on the pic to go to the page January 19 ,09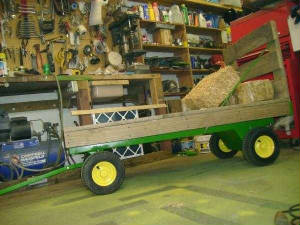 Nathan made a snow blade for the R-72,nice work.Click on the pic to go to the page.January 19th, 09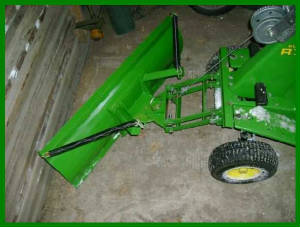 Nathan's new trailer load of projects.Click on the picture to go to the page.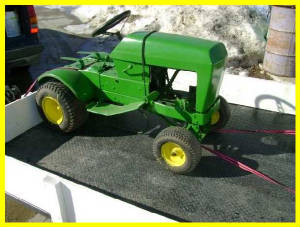 Febuary 17th, 09 Nathans newest addition A craftsman DTS 3000.Click on the pic to go to the page.